Miss SUZETTE
5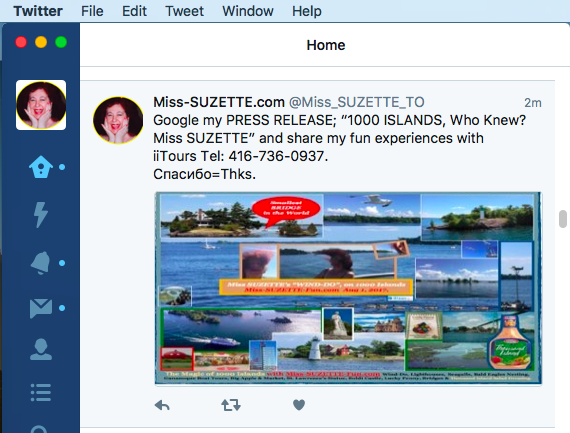 Press Release: 1000 ISLANDS, Who Knew? Miss SUZETTE
For decades now, every year I plan to go to the 1000 Island Tour & Cruise, and on August 1, 2017, I finally did.
WireService.ca Media Release (08/10/2017) Toronto, ON - My pre-imagined highlight of the trip was that I would learn RUSSIAN, well, good enough to chat with Putin, (Vladimir Putin, President of Russia) if I had to…because the only tour that I could get, leaving in a few days, was with iiTours, (416-736-0937) who only do international tours, and only in RUSSIAN.
Not speaking any Soviet, the amiable tour agent, Galina and I laughed on the phone, at the bizarre concept that I would join them, anyway…
My plan was to engulf myself in listening to the other tourist's chat, and pick up some "Russianka" words. Other than, spah-see-bah (please), vodka (pour more), and dasvidaniya (good bye,)…I was anxiously looking forward to more daily expressions.
Our charming tour guide Svetlana, and debonaire driver Dimitri, took great care of me, but my iPhone didn't…
No matter how hard I tried, I could not get a Russian Translation service to talk to me, and help me with proper pronunciations and words written, not in the ornate "Russianko" alphabet, but in plain English…
So, I just listened to my only music loop of Frankie Valli…all the way to Gananoque, Kingston, Ontario…"She-e-ry…Sherry Baby…"
We were heading to the Gananoque Boat Lines at the St. Lawrence River, for our 1000 Island Cruise.
Gananoque, is located midway between Toronto and Montréal, east of Kingston, Ontario, in Canada, and is known as the Gateway to the Thousand Islands.
With a surprise stop-over at The Big Apple & Market in Colborne, Ontario. A Little Bit of Country...A Whole Lot of Fun! (+1 905-355-2574). Did you know they are actually located on 262 Orchard Rd? Exit #497 Off Hwy 401, from T.O.?
All I can say is, that you've just gotta take a BITE & TASTE, EVERYTHING, from their apple-themed country displays & bins…yummmm, yummm.
LUCKILY FOR ME, THE ACTUAL GANANOQUE BOAT TOUR WAS IN ENGLISH…
The lively, historical banter was between a playful audio male & female voice, informatively and amusingly resounding throughout the 2 1/2 hour cruise.
Who knew that;
• There are more than 1000 Islands, on Thousand Islands. Yup! Around 1,864 or 5.
• These islands are tops of mountains, drowned in the Glacial Period.
• To be considered an island, these Ice Age rocks, have to stay above water 365 days a year and support a living tree.
• Majority of the island rocks, have a house on them, with residents who farm it.
• All Islands have their own historical names, like Wolf, Howe, Wellesley, (see name list: http://www.thousandislandslife.com/Portals/Properties/TI-Main-Table-May-7-2009final.htm)
• The St. Lawrence River/St. Lawrence Seaway, has fresh water…
• St. Lawrence, the namesake of the river, now has a Statue erected on the side of this seaway passage.
• Boldt Castle, and it's romantic history.
• International Bridges (Seaway Skyways), and their construction stories...
• Tales of pirates, bootleggers and the Gilded Age rich-and-famous. All the barges, and boats, that sank, and we are cruising on top of them…
• Millionaires row.
• All the environmental & animal revitalization projects & WWF…
*The history of the return of the bald eagle-found a nesting pair with babies…in our path, on this magic voyage...(see photo)
**The Smallest BRIDGE in the World (see photo)...one island is in Canada,(used as the backyard), the other island, (the actual residence), is in the U.S.
***The first postie, (delivering milk and bread along with the mail to the island's residence) Captain Robert Beckstead, is responsible for starting the Gananoque Boat Lines…..
• Of contributions of our Canadian tribes, the Loyalist settlements, their ongoing historical preservations, celebrations, customs...
• The 1000 Islands (is pronounced "Thousand Islands," not "One Thousand Islands")
* 1000 Islands, connects Canada & USA, thus both Canadian and American flags are seen, flying, side by side.
WHO KNEW?
My personal ripple: A seagull, flying with us on top of the vessel-lookout-post-followed by his family. Seagulls, in flight, so close above us, we could almost touch them. (I wish we could have fed them, but were told, they might reward us in a way that would make everyone mad.)
Then when we returned to Gananoque sand, there was the:
• Marine/Boat Museum, (didn't have time to visit)
• Historical Attractions, Celebrations to book…
• The gift shops,
• Island foods,
• Local ice-cream…and oh yes, our 1000 Island Salad Dressing!
"ASMM" (and so much more…), family fun, kayaking, art lessons…
On our way back to Toronto, I noticed a sign at the Tourist Ticket Office: "Tribute to Frankie Valli, Aug 5, (2017)" - in the Township of Gananoque!?!
Call it "My Saint Lawrence Synchronicity"…as you remember, I kept listening only to Frankie on my looped iPhone, during our RUSSIAN drive-journey-tour. It worked. I felt very happy, relaxed and at peace, during the rides.
Homeward, our quick glimpse of KINGSTON, reminded me how wonderfully colourful, architecturally diverse and vibrant, that city is….yes, drove by the infamous, now closed, Kingston Penitentiary, looking abandoned, sort of light grey, dusty and almost hidden by new construction…
Having spent days acquainting myself with some more of the history of the 1000 ISLANDS and its surrounding areas…upcoming events…theatre, canoeing, more sight-seeing opportunities; you can be sure I'm going back…SOON!
How about YOU?
*I finally found a way to remember the name of the 1000 Island township, GANANOQUE, and how to pronounce it. GANANOQUE: (Town of two Rivers) "There is the right way, the wrong way, and the GANANA-WAY!"
-30-
PRESS CONTACT:
Miss SUZETTE
NOW PR
416-921-5288
Toronto, CANADA
Email: humour-health-house@rogers.com
Subject Line: 1000 ISLANDS, Who Knew?